Main Product Center
main products :
Main customers for excellent performance, long life and reasonable price based on the following five categories of steel coil and its associated secondary processing equipment and services (including hot-rolled coil, cold rolled coil, galvanized steel, tin (tinplate ), spray, surface-treated sheet SPCC, stainless steel):We are Provide the Superior performance, Long Life, Cost performance Epuipment Below. The Epuipment can treat the Cold milling coil, Tinplate, Plastic Spray board Treatment , SPCC, Stainless Etc.
1.Cutting Length Line
2.Rotary Oscillate Shear Cutting Length Line
3.Tailored Rotary Oscillate Shear Cutting Length Line
4.Slitter Line
5.Combination Line
6.Blanking Line
7.Washing Line
8.Transfer Mechanical Hand for Small tonnage press
9.Leveller - Feeder Line For Press Blank Line
10.NC serbo Control
11.Magnet Piller Vacuum Piller Steel Aluminum Hybrid Piller
12.DieSet Shear For Thickness coil
13.Flying Shear For Thickness coil
As well as various high-performance single machines on the production line, such as: precision leveler and leveling roller, high-performance anti deviation feeding roller, high-precision Rotary shear, Drum shear, Dieset flying shear (for tinplate), precision high-speed longitudinal shear, belt tension device (belt bridle), high-speed stable uncoiler and Recoiler (two speed shift of thick and thin plate), measuring and deflection roller (deflector Roll), cleaning device, swing shear die, high-performance electromagnetic guide rail, excitation power supply, magnetic separator (destacking device), high-speed electromagnetic stacker, side stacker, Vacuum Stacker, upender, cleaning roller, extrusion roller, etc.

Slitter Line
Rotary Shear Line
Blanking Line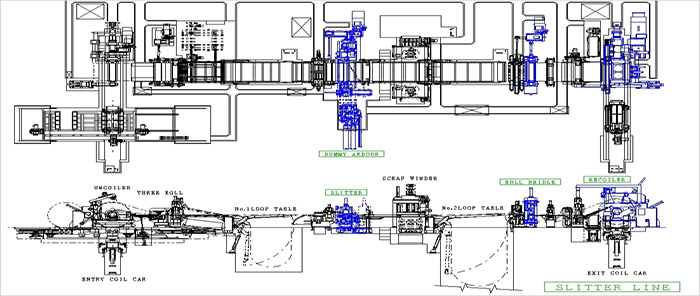 other products